Janet Bishop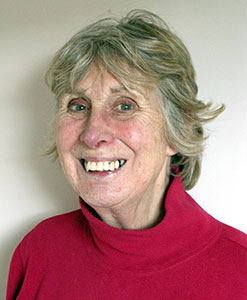 I was born and brought up in Hull, East Yorkshire, a city with 'edges'. Childhood holidays were spent in West Burton, where we rented very basic holiday cottages. These holidays were full of freedom, to play, wander, swim, climb, stay out, make friends, have midnight feasts. I failed my 11+, wanted to be a nurse, changed my mind, and chose teaching, which turned out to be a mistake, although much later I ended up teaching adults, and loved it. I married, had three children, adopted a fourth, fostered short term, became very involved with Social Services, and then decided to change my life, and went to study art in Cambridge, where we lived. Whether it was as a consequence of this or not, our eldest daughter now teaches Art, our youngest daughter studied Art, and two of our grandchildren are at Art Colleges. I went to Ruskin College in Oxford for a year, living in all week, reading Women's Studies, and became so enamoured of studying, that I then did an MA. After we moved to Arkengarthdale, I wanted to keep studying, so enrolled at Lancaster University's Department of Continuing Education, studying local history and, still not having had enough, then did an MA in Cultural History at Teesside. We are now about to move house and live in Reeth. Six miles is as far as we want to go! I am Chair of the Friends of the Museum, and have a huge pride in the Museum. I am also trying to write a family history based on my great grandmother's detailed inventory. This sometimes feels like pulling teeth, but involves lots of research which I love doing.
Helen Bainbridge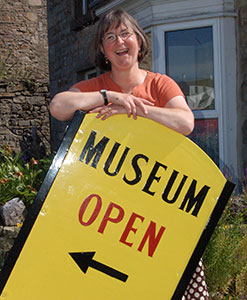 Helen was born in Halesowen near Birmingham and has always had an interest in History, which she went on to read at Cambridge. From the age of 13 she worked as a volunteer in various museums, and after gaining her doctorate from the joint Royal College of Art/Victoria and Albert Musuem postgraduate course taught in various universities, including Essex and Warwick . She was awarded a Leverhulme Fellowship to study the College Silver in Oxford, and has curated major exhibitions at the Crafts Council, the Victoria and Albert Museum, the Ashmolean Museum and the Goldsmiths'Company. She has recently been a Senior Research Fellow and Museum Consultant to two research projects based at Warwick University and University College London. In 2004 she took over the Swaledale Museum in Reeth with her husband Alan, and thanks to the support of the Friends group has restored the fabric of this historic building, expanded and catalogued its collections and introduced events, activities and associations for all.
Jocelyn Campbell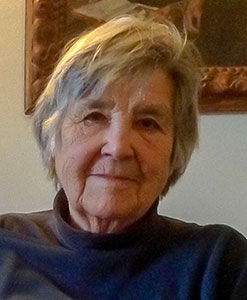 Jocelyn is the daughter of a Yorkshireman and French/Swiss mother. She was brought up in Buckinghamshire, although all her childhood holidays from the age of five were spent in Swaledale, from where her father's family originated. During WW2 the family acquired the use of Kisdon Cottage, until her parents moved to Muker. For twenty years Jocelyn and her family had Gillhead in Oxnop Gill until they bought the working part of the Cornmill in Arkengarthdale from her sister who lived there. Having restored the building as a home she and her husband settled there in the early 1980s. She attended art colleges in London and later in Edinburgh before training as a teacher. On returning from Lebanon with her husband and four children, she became a lecturer in Art in colleges of Education in Scotland and Stirling University.
Always interested in the local history of the two Dales, she has followed in her father's footsteps by joining the local Archaeological group (SWAAG) and Friends of the Museum. Her father, Edmund Cooper published several books and articles on the local history of the Dale, as did her grandfather. Her continuing interest in the Middle East has meant annual visits to Lemanon where she is a trustee of a large Quaker school, and has lead to the publication of a book of paintings of the wild flowers of the area. She has also published a book of drawings for SWAAG of the remaining trees of Swaledale and recently a book on Swaledale's wild flowers.