Janet Bishop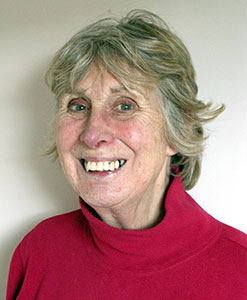 Many of us will have known that Janet had been diagnosed with cancer, and had successfully come through particularly heavy and gruelling treatment, only to find that it had returned. She died with Wilf and her family around her, in her home in Reeth on 2nd April 2020. It is immensely difficult to put into words how much we will miss Janet, forever sunny, forever positive, enquiring, generous and supportive. We were so lucky that she magnanimously agreed to become Chairman of the Friends of the Museum, and was elected at the October 2009 AGM, writing her first introduction to our Newsletter in the summer of that year. Her method of chairing was to make everyone feel involved and we often strayed into all sorts of fascinating territory, far beyond the remit of a simple agenda. She had however already been a tower of strength as a member of the Committee.
Janet was born and brought up in Hull, East Yorkshire, and was nine when she first stayed in the Dales, at the Cat Hole Inn, in Keld. The family holidayed in the Dales every year from then, later bringing her future husband Wilf, and then moved to Arkengarthdale in 2000, and only later to Reeth. With Jocelyn Campbell she represented the Arkengarthdale interest with gentle partisanship. I remember vividly her wonderful lecture on the coal miners of Punchard Gill, reconstructing part of their life through small shards of pottery she had found. It was wonderfully evocative, and reflected her great interest in social history, particularly that of 'forgotten' people. Her thirst for knowledge was evident in the delight she took in research and writing. After teaching, bringing up a family and fostering, and work in Social Service she turned to academe. She studied at Ruskin College, Oxford; did a local history course at Lancaster and a three year Cultural History MA at Teesside University, for which she wrote a dissertation on women and how their work is represented in local history museums. I think that is how we first made contact with Janet. With Veronica Sarries she went on to spearhead our immensely successful and rewarding Oral History Project. You can hear her sympathetic interviewing on our Sound Post in the Museum, a wonderful and lasting legacy, along with the much more extensive collection of the full recordings.
Janet involved family and friends in the Museum, and not just as visitors. Sheila Goodwin, who she had met at the Ruskin, became a regular helper with the annual Tea Party in the Orchard, and grand daughter Chloe gave one of our best and most unusual lectures, on Anglo-Saxon hog back tombs. She created a warm embrace of support and encouragement, innovative ideas and practical help. Although she is no longer with us in person, her legacy of laughter and support will live on in the Museum. Janet, thank you.
Helen Bainbridge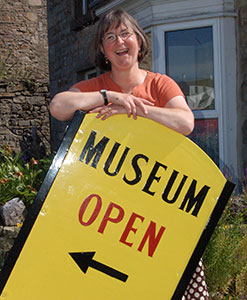 Helen was born in Halesowen near Birmingham and has always had an interest in History, which she went on to read at Cambridge. From the age of 13 she worked as a volunteer in various museums, and after gaining her doctorate from the joint Royal College of Art/Victoria and Albert Musuem postgraduate course taught in various universities, including Essex and Warwick . She was awarded a Leverhulme Fellowship to study the College Silver in Oxford, and has curated major exhibitions at the Crafts Council, the Victoria and Albert Museum, the Ashmolean Museum and the Goldsmiths'Company. She has recently been a Senior Research Fellow and Museum Consultant to two research projects based at Warwick University and University College London. In 2004 she took over the Swaledale Museum in Reeth with her husband Alan, and thanks to the support of the Friends group has restored the fabric of this historic building, expanded and catalogued its collections and introduced events, activities and associations for all.
Jocelyn Campbell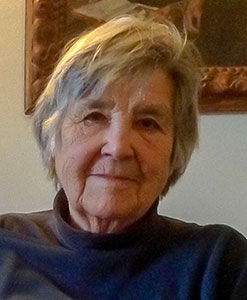 Jocelyn is the daughter of a Yorkshireman and French/Swiss mother. She was brought up in Buckinghamshire, although all her childhood holidays from the age of five were spent in Swaledale, from where her father's family originated. During WW2 the family acquired the use of Kisdon Cottage, until her parents moved to Muker. For twenty years Jocelyn and her family had Gillhead in Oxnop Gill until they bought the working part of the Cornmill in Arkengarthdale from her sister who lived there. Having restored the building as a home she and her husband settled there in the early 1980s. She attended art colleges in London and later in Edinburgh before training as a teacher. On returning from Lebanon with her husband and four children, she became a lecturer in Art in colleges of Education in Scotland and Stirling University.
Always interested in the local history of the two Dales, she has followed in her father's footsteps by joining the local Archaeological group (SWAAG) and Friends of the Museum. Her father, Edmund Cooper published several books and articles on the local history of the Dale, as did her grandfather. Her continuing interest in the Middle East has meant annual visits to Lemanon where she is a trustee of a large Quaker school, and has lead to the publication of a book of paintings of the wild flowers of the area. She has also published a book of drawings for SWAAG of the remaining trees of Swaledale and recently a book on Swaledale's wild flowers.